Our vision is to have an inspiring and trusting environment where people join their thinking together to achieve their full potential and drive success for our clients in the product value chain.
Connexus Global
in numbers
average time to make first permanent placement
average time to get promoted
of people stay more than 24 months
We're looking for entrepreneurial people who are creative, resourceful, and independent. Recruitment experience would be nice to have, but it's not essential. It's more important that you have the enthusiasm and drive to become an expert in your sector.
And while you'll need energy, dedication and a foundation of integrity and professionalism when solving clients' problems, life at Connexus isn't all about work. Being outgoing and sociable will add an extra dimension to your experience with us.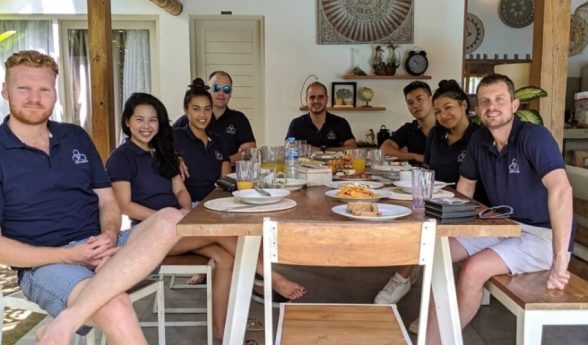 Your future at Connexus Global
At Connexus, you are always moving forward and progression is essential at every step of your career. We have a transparent career advancement process that allows you to know your goal every step of the way. We have in-house learning and development programs together with hands-on leaders working closely with you to enable you to advance in your career.

The Connexus Training Academy
Upon joining our team, you will enter an 8-week bespoke onboarding programme to provide you with all the training you need to thrive. Whether you are a recent graduate, a Senior Consultant, or an Executive, our aim is to empower you to be 100% confident in your new role.

This programme is designed to support your continued success and growth within the company after you complete The Connexus Training Academy. We are firm believers in continuous learning, regardless of your role. Your success is our success.

Incorporating Your Feedback
At Connexus, your voice matters to us. Our aim is to grow as people and as a business, and we want your input on how to do that. That's why we gather regular feedback – weekly, monthly, and quarterly – in order to remain on a pathway of continuous improvement.
International Relocation Opportunities
Looking to advance your career in a new location?
Top performers have the chance to relocate to a Connexus office in the following amazing cities:
Incentives, rewards and benefits
you can expect from us
Recognising and rewarding our people hard work and offering incentives at all levels of the organisation in any position from center of excellence, fee earners and leaders.
Connexus Star of the Quarter:
Voted by the people for living and breathing the Connexus values. The winner is awarded a cash prize and a bottle of champagne.
Connexus Monthly Socials:
On the third Friday of every month, we all get together over lunch or cocktails/mocktails.
Connexus Winners:
5* hotel stay, flight, or dinner for achieving 20% over your quarterly target.
Connexus Birthdays:
Day off on your Birthday, can be carried over if it lands on a weekend.
The High-Flying Club:
Annual trip where high performers get together in an exotic location for achieving 30% above the Company's annual target.
Connexus Loyalty Programme:
From a 4-week paid sabbatical to luxury watches or handbags, this is based on years of employment.
Connexus Volunteering:
We volunteer up to 2 days per year.
Connexus Relocation:
International relocation opportunities (Thailand, Singapore, London, Austin).
Connexus Private Healthcare and Dental Insurance:
Best-in-class healthcare plans for everyone.
Connexus Fridays:
Reach your target before the third Friday of the month and get the following Friday off.
Health and wellness subscription:
All employees get a monthly subscription where they can access a variety of classes from gyms, massages, beauty treatments and wellness classes, as a way to promote a healthy lifestyle and reduce stress.
Employee Engagement:
Daily feedback on how you are feeling through our internal application to help us improve as a business and as managers.
The Connexus Training Academy:
A best-in-class onboarding 8-week training academy together with a personal development plan for all levels to enable you to learn and progress within Connexus.
Private Sessions with Our Mental Health Specialist
At Connexus we have a compassionate approach to mental health and offer up-to 2 sessions per year as well as workshops and training for everyone.

I love working in an environment where everyone's really ambitious and driven, but still really down to earth.

Connexus has been amazing at providing me with all the training that I need so I can be confident in any task I take on.

The reason I enjoy working at Connexus is because of the people around me. The people in the team that I work with share my ambition, my drive, my passion for the business.

Whether it's a tough day or a successful one, the level of maturity and inclusivity within the business is amazing.

My favourite thing about working here is how much Connexus believes in investing in us and how much we are supported by the management team.

Everyone is brought into the journey the business is on and the founders and leadership have a clear plan for how to achieve their goals.

I was impressed with the vision of the founders. It was clear that they are aligned on making sure that Connexus Global will be a global recruitment player.

I joined Connexus because I saw how ambitious and driven everyone was, and also people's career development and their well-being are absolute top priorities here.

I love how Connexus cares for employees just as much as they care about clients.

I continue to work for Connexus as I feel valued, I am given recognition for what I deliver and I admire the simple fact that we live and breathe our company values.

I love the working environment at Connexus. Everyone is friendly and supportive. Connexus also really invests in our career growth and wellbeing while ensuring that our work meets the highest standards.

As a millennial, finding a work environment where I feel comfortable is essential. Connexus hosts plenty of activities and after-work gatherings to help us build great relationships.

My favourite thing about Connexus is the family-like culture. Everyone supports and encourages each other no matter the situation.

After a really tough 2020 recruiting for the travel industry, I was almost ready to give up on recruitment altogether. When I joined Connexus, I changed my mind right away. We have a really positive working environment with the best support I have ever received.

I love the working environment at Connexus. It offers healthy competition between experienced recruiters, and we also have a great laugh along the way!

Everyone is encouraged to make suggestions and add value in the organisation, regardless of how junior or senior you are.

The thing I appreciate most about Connexus is that it has given me the opportunity to grow, not only within the company, but also as a person.
We are proud to be an
LGBTQIA+

friendly workplace
Equality is at the heart of everything we do. We're looking to hire people who are inspired to make positive change. Our workplace is a safe space for honest conversations and growth. We believe in bringing people together because it feels great!
We are looking for a Finance Manager to join our business, a leading Product
A brief overview of the duties of a Principal Consultant at Connexus Global. To
A brief overview of the duties of a Senior Consultant at Connexus Global. The
A brief overview of the duties of a Consultant at Connexus Global. Accountable for
APPLY TODAY AND JOIN US ON THIS AMBITIOUS JOURNEY